"show us ya tits"?
Sorry mate, you're not my type.
A response to http://www.news.com.au/lifestyle/real-life/news-life/oi-luv-show-us-ya-tits-are-all-men-pigs/news-story/ec392644adfafe5ea055cf510d5f5034
20 May 2016 15:16:14 UTC

"Are all men pigs?"
No, it's just you mate.
White Knights.

Desperate for pussy,
willing to kill as many men and boys as it takes to get it.
"Tarang Chawla pictured with his sister Nikita, who was murdered by her husband with a meat cleaver last year."
Cairns woman charged with murder of eight children.
Bodies found in Manoora house. (source)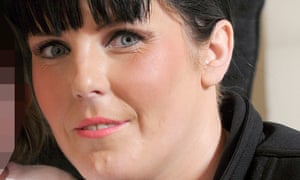 Rose Jones, who poisoned her one-year-old daughter
by adding painkillers to the child's milk
so she would fall ill and be eligible for extra benefits
has been jailed for seven years and two months.

(source)

Photograph: Plymouth Herald / SWNS.com
It's interesting that Feminists don't seem at all worried about the
women
who kill men,
or the
women
who
slaughter children
.

"I'M DEVELOPING an unhealthy worldview of my own gender"
Admission is the first step in recovery - you need help, dude. You are in a hate movement that's teaching you to hate not only yourself, but anyone with any similarity to yourself.
Run the
fuck
away.
Get. Out. NOW!
"where men are increasingly either quietly ashamed" - by fuckers like yourself.
"or simply being misogynist"
Citation needed.
Misogyny
- the hatred of all women and girls - is incredibly rare. The opposite is far more common. Valerie Solanas has fan clubs even now, and her work was celebrated by Feminists.
No-one cares about misogynists. Most men would die for their daughters, their wives, their mothers. It's the trigger that's used to get men to sign up for every war.
And she wasn't the only one to call for the murder of all men.
"there's a third demographic that's desperately in need of members: the morally conscious and forthright" he said, wanking furiously.

"... Spend any time on Tinder"
One
dating app? With a reputation for shallowness?
"you'll inevitably hear from women about hordes of pathetic males insulting them"
Citation needed. Let's
imagine
this chunk of sheep shit was telling the truth - why the fuck would any women use Tinder? They'd just use one of the billions of other ways to meet guys.
As for insulting them - you seem to regard a man wanting to have sex with a woman as insulting her. I have to wonder if you realise that women will say crude things to other women when they are in all-female environments?
As it stands, men have to make all the advances - that means some guys, and a few girls, just use a
shotgun approach
.
"Isn't a dating platform precisely where one would want to be on their best behaviour? "
No, you'd want to be on your actual behaviour - you think men should lie in order to be appealing? that's interesting - and very revealing of your true self.
"Only want a bitch with big tits"
You do realise that there are loads, and loads, of women who want tall men?
Every dating site
which collects data
finds
tall men are selected for
.
There are even websites dedicated to that desire.
Her preference for strong and tall men is empowering!
His preference for women with big boobs is proof he hates all women and girls.
It is no better or worse for someone to want a tall person than it is to want someone with big boobs - both are superficial features. If anything, at least people, men
and
women, can get surgery to gain that trait if they want - height is not an option.
"swipe right to get dick up in you"
Which would be great because anyone seeing that can quickly make the decision as to whether or not they like that.
You think there are no crude women out there?
Or
women who want a crude man?
"f**k the feminist bitches"
Noooo do not stick your dick in crazy! Feminist bitches should never be fucked, that's how
false rape charges
happen.
"Are we men a lost cause?"
It's just you. Jesus, man, stop whining.
" scan through the comments beneath any post on Facebook mentioning gender equality, or the prevention of violence against women, and you'll be treated to a top shelf sewer of exploding, putrid man-bile about how it was the woman's fault and she deserved what was coming to her."
Bullshit. Present your evidence, fucker.
From a Magistrate's office in Perth.
Discriminating against men is a perfectly legal practise in DV cases. Every obstacle possible is placed against men reporting such activity against them - and the statistics of there being almost no female abusers is used to justify further discrimination.
"Sadly, I have unfortunate reason to have experienced the devastating consequences of extreme forms of male violence."
Fuck off.
Riding on the wave of sympathy for a tragedy, and using it to
virtue signal
to the feminists as well, is despicable.
You are surrounded by men and women and children who have experienced violence from women, and you
shit
all over them because they are inconvenient to you, and the only victim you allow for is female, and the only evil you can imagine is masculine.
"My sister, Nikita, was murdered with a meat cleaver last year, aged 23. "
And you've been milking it ever since.

"Violence against women and their children is one of our nation's most shameful realities. "
http://pb.rcpsych.org/content/35/1/33.1
"Large epidemiological studies have demonstrated that domestic violence is most commonly reciprocal and that when only one partner is violent there is an excess of violent women."
The CDC's 2010 National Intimate Partner and Sexual Violence Survey, released again in 2013 with new analysis, reports in its first-ever study focusing on victimization by sexual orientation that the lifetime prevalence of rape, physical violence, or stalking by an intimate partner was
43.8 percent for lesbians, 61.1 percent for bisexual women, and 35 percent for heterosexual women,
while it was 26 percent for gay men, 37.3 percent for bisexual men, and
29 percent for heterosexual men
(this study did not include gender identity or expression).
These studies refute the myths that only straight women get battered, that men are never victims, and that women never batter (
source
)
"It has been at crisis point for years."
In the same way a horde of witches was seen flying through the skies in the hysterias of the past. There's no facts to back you up - and you know it because you never, ever, cite any fucking references, you bloody arsehole, do you?
You just want to smear men with filth to earn the praise of others - and it doesn't bother you at all that that means men and boys will suffer, and women, too who want to report a female lover but find the system won't even acknowledge that a woman can be an abuser - thanks to cunts like you.
"After all, we do know that this isn't a "women's issue", this is a people's issue."
At last, he speaks the truth! Lo!
But e'en the devil may cite scripture, of course in your place, it's a fucking accident.
DV is everyone's business. Boys and girls are most likely to see abuse at the hands of their mothers - and grow up to be abusive. Women who abuse partners who are male can find they will be hit back - and men hit back harder - so that a round of blows that are traded always run the risk of serious injury or even death.
You want to stop DV? Stop it at the source. Stop kids learning it from their parents - of both sexes. Teach women and men how to resolve issues peacefully.
"As an Our Watch Ambassador, I share stories of victims of violence "
Bullshit.
Moloch is grateful for your kind donation, White Knight!
YOU ERASE EVERY STORY THAT DOESN'T MEET YOUR NARRATIVE.
You know it's a lie, and you don't stop. Lying feels good - all those suckers believe you! You are rewarded with status and power - and maybe even pussy - for all the filth you spew.
You demonise men - and you don't care because you pretend to yourself you're not one of
them
, they're the ones who are bad, and if you just keep tossing them into the flames, the sin on your soul will be burnt away.
"Statistics often mask the stories behind them."
Is that your excuse for not presenting any?

"Australia is at a point where we must all be part of a conversation on gender"
I agree. Let's have a discussion on Gender Studies, the way we had a conversation on Creationism. I think your religion will fair as well.

"Guys, join me."
Or WHAT?
You'll give me a White Feather?
"Tell your mate he's being a dickhead when he says that misogynistic thing he always says."
You must have some fucking weird friends! Most us die for women.
The weird thing is -
i don't see any Feminists volunteering to return the favour
.

"Don't stand quietly by when you hear that female manager being referred to as a ball breaker."
No, find out the facts. Maybe she is one. It's important to know the truth.
I don't think you get it, mate. If one woman is a bitch, and you think she's a bitch,
THAT DOESN'T MEAN YOU HATE
ALL
WOMEN, YOU
RETARD.
"Read that article about the media's reporting of gender-based violence. Talk about it with your mates."
Get them to come alone to our church, and chop off their balls, to guarantee a place in heaven!
NO.
---
Further Reading:
The unspoken truth of domestic violence: Woman as aggressor
The Duluth Model of Misandry
"Cat calling"
is complicated. Humans need the attention of other humans. For women, they can get it by walking down the street. Men have to be more aggressive.
Some men are showing off to their mates (and getting attention from them) by calling out to women - but those sorts will call out to other blokes and not in a very complimentary way! They can be dangerous as they will be inclined to be violent to other men if they think they can get away with it.

*However.*
Feminists want to re-define any unsolicited remark from a male as harassment. Now, in the past, that was pretty much the only way sex and romance ever happened. It's technically possible nowadays for women to take the initiative.
Mostly, they don't. In dating apps etc, it's always men taking the risks of rejection. I'd urge any woman who wants to know what it's like to create a profile as a man of average appearance (which unfortunately means overweight), average height (5'8" from memory?) and average income.
Now wait for the offers to roll in! (*giggle*)
Yah, no, it won't happen - except from other blokes.
Now do exactly the same but make it female.
*Bang.*
You will get a million offers. Men know they have to ask as many women as possible to even get a tiny chance with one.
A lot of men will '
shotgun
' in response. Some men will only ask a few, and will get women anyway - but they tend to be top tier anyway - good money, good looks, whatever.