Have you ever wanted to see a sexy woman-prawn hybrid?
Blibdoolpoolp the Sea Mother, goddess of the Kuo-Toa (Erol Otus, AD&D
Deities & Demigods
, TSR, 1980)
The single strangest concept for a goddess I have ever seen.
A prawn, but it wants to have sex with you.
I'm not the only one to have noticed it.
This is what that goddess' worshippers look like.
They have no interest in humans sexually - from memory, they eat and/or kill all they encounter. So why worship a goddess that looks like this?
Well, my head-canon is that they are pretty stupid really, and they came across a statue created by some long lost human civilisation, and worshipped it blindly, and that made a goddess in that image.
Because humans have always made animal headed gods and goddesses - I'm told it's not mean to be literal, that the civilisations were just thinking metaphorically, but these fish monsters wouldn't know a metaphor if it slapped them across the face.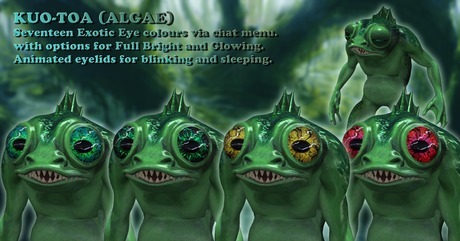 They know how to bash, how to chew, how to make more of their kind, and that is about all they do - except the original game had some of them as good martial artists - for no apparent reason.
This is the 5th edition version.
I don't really recall them being creative, or being builders of anything (they seemed to use whatever underwater ruins they found), and generally they had no personality. They were just
obstacles.
The Drow were a thousand times better.
I'd like to include a picture but Tumblr would shut down my account. It's funny that the pictures that adults yawned at as being fine for kids are now too naughty for Tumblr.
I think she was topless in the original version.
See, the Drow having sexy gods that wanted to sex/kill you made perfect sense, but the Kuo-Toa ?
You are the Dancing Queen"(*bloop*)
Young and sweet, only seventeeeeeeen
Dancing Queen
Feel the beat from the tambouriiiiine, oh yeahhhh (*waggles claws*)
See, there's the worshippers slaughtering the human scum, and Blibdoolpoolp is off in her own world up there, dancing away in the spotlight...
"Pardon me, Human, but can you direct me to Coachella?"